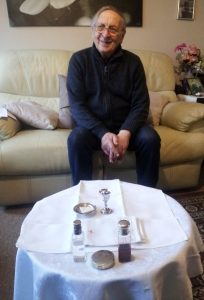 Welcome home Ron from Croydon University Hospital. Seen above at home having Home Communion.  The wafers and wine come from our 'reserved sacrament'.  They have been previously 'consecrated'  (made specially holy) on the Sunday before at the main service.  Anyone in the parish can ask for Home Communion if they cannot make it to church. Just ask the vicar, Revd Catherine, or our lay ministers, Mitzi Isaacs and James Lewis.
Above are two pictures of the communion wafer silver box container.  The container dates back to 1946 and was clearly a loving donation by congregation members in memory of Ann Josephine Beale.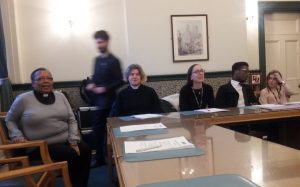 More on rubbish, our fly-tipping and litter problem in the area!  Here we see Revd Catherine at the Croydon Council Chambers for a meeting with the leader of the council, Councillor Newman. It was organised by James Asfa of Croydon Citizens and also involved members of local schools and our Croydon North Deanery churches.