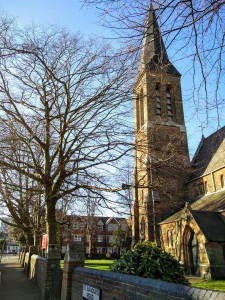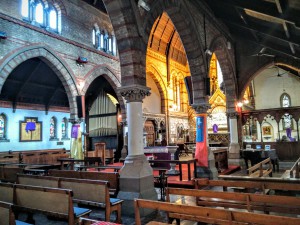 Hello!  from Holy Saviour Church Croydon – important updates -at 24 March 2020 . Once again sending you and your household God's Blessings.
In the light of Covid-19 – The Church of England has suspended public worship and the Church Building is now closed. Our worship of God and our care for each other continue but cannot be done in this building until further notice.
We suggest that you still light a candle or lantern at home every day ay 7pm and say the Lord's Prayer – then we will know we are praying together. If you can put the candle or lantern by a window so people passing can see that would be great.  The Church bell will still be rung at 7pm each day.  On your daily walk for exercise, please pass by the Church bringing fresh flowers for the vases outside – this a sign of life and hope!  Please keep bringing offerings for the Foodbank – it is very important in these times to support the homeless and hungry. Leave your offerings in a bag outside the Vicarage door. Do include toilet paper and other essentials which we will store for long-term.
We have volunteers from the church and from our community who are willing to go shopping for you if you are self -isolating or ill – please let us know if you come to need this. Please call the Vicar on 07709618063.

The Vicar will be celebrating Communion Services alone or with one other on Wednesdays and Sundays at 10am as usual and during Holy Week & Easter to hold the church calendar going.   This will not be public worship but an offering of prayer and praise for our church community, our wider community, our nation and for the world. We are 'streaming' these services so you can watch at home on Twitter @holysav1. The church bell will be rung just before these services, so you and the community know we are praying. 
Tuesday 8am-8.30am
Morning Prayer
Tuesday 7.30pm-8.30pm
Night Prayer with Meditation
Wednesday 10am-11am
Holy Communion and Prayers
Thursday 6pm-6.45
Evening Prayer
Friday 6pm-7pm
Choir Practice
Saturday 10am-11.30am

Church Open to book your Christenings and Weddings

Sunday 10am-11.30am
Sung Holy Communion
with Sunday School for kids
and every third Sunday Young People's Independent Group