We welcome back Revd Catherine following her summer break. It's been quite a busy few days since her return, with a wedding yesterday, a baptism today and overseeing work on the restoration of the hall floor during the week (see below).
The restoration work on our church hall floor has begun!  See the old floor of wood and tiles  revealed, and the Fine Wooden Floor team at work(from L to R: Kevin, Mick, Dan & Nick).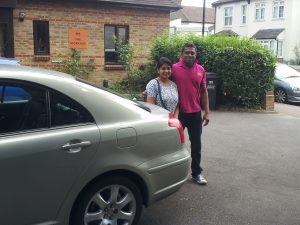 Just after the blessing of a new car outside the vicarage. This car belongs to congregation members, Nayomi and Sanjay. It's their first car as a married couple. Nayomi has also joined our choir.